Difficulty: Beginner
Category: Transition
Type: Static Pole, Spin Pole
Points of Contact: 4
Also Known As:
X-Climb
Basic Climb
Pole Climb
Crucifix Climb
Front Climb
The Basic Pole Climb is an easy, ergonomic way to move up the pole while using a minimal amount of strength. In a pole climb, you will never need to "muscle" your way up the pole, or force the movement.
While some strength is indeed required to hold your bodyweight up and to bring your legs up, much of the actual motion upwards revolves around "hinging" at the hips and using that as a fulcrum to move your body. We recommend learning how to climb only once you have gotten more familiar with other beginner moves. This allows you to build familiarity with how your body and the pole interact.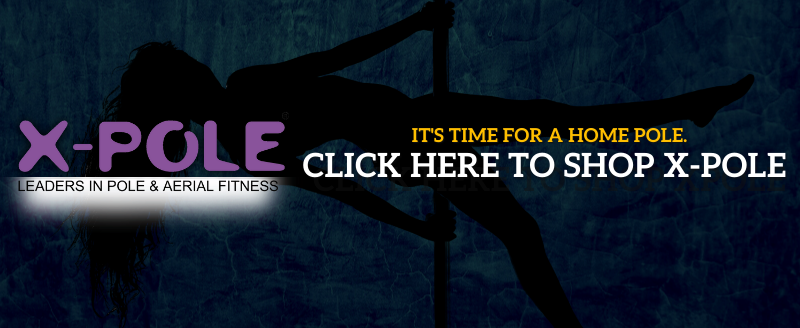 How to Perform a Basic Pole Climb
Stand facing the pole and get into your anchor grip. You will be Pushing with the bottom arm, and Pulling with the top hand.
Bring your inside foot – the same side as the bent arm – to the pole. The knee should go on the outside away from your body, and the ankle should cross over to the other side of the pole.

If you are beginner, you can flex your foot, though this is considered a bad habit. We recommend practicing with a pointed foot as much as possible once you are more comfortable with your climbs.

Bring the outside foot – the same side as the top arm – to the back of the pole, knee on the outside, ankle crossed to the opposite side.

Your legs will make a gentle X, crossing at the ankles. Keep your knees tight together, both pushing into the pole.

Push with the bottom arm, pull with your top arm and hinge at the hips to move your body up. You will be in an "upright crucifix" position here.
To move further up the pole, switch which hand is bent on bottom. Reach up with the previously bent arm, and position it high above your head on top.
Pull your legs up so you are in a seated position. They should remain in the same X shape with the knees together.
To come down, reverse the motion until you can step out onto the floor.
Remember the Push – Pull method with half-bracket grip and full bracket grip. Push with your bottom arm, pull with your top arm.
Never hang loosely from the elbow or shoulder in this arm position, especially not when you are working with your full bodyweight. Keep the shoulders engaged, and down away from the ears. You should feel strong across your upper back as you go through these motions.
We always recommend a crash mat and trained spotter for moves that involve your body leaving the floor. This officially classifies it as an aerial move, whether it is a beginner pole trick or advanced move, though we especially recommend these safety precautions if you are new to aerial tricks.
Never let go with your hands until you are firmly on the floor again.
I Can't Grip the Pole with My Legs: If you are unable to grip the pole with your legs, there are a few things that may be contributing to this. First, give your pole a good wipe down. Residue can reduce the grip you get on the pole, whether it's body oils, lotion (which is why poling and lotion doesn't mix!) or even built-up residue from grip aids.

Second, remember that unless you are using a silicone pole, you need skin contact to grip the pole properly. This includes clothes, and, if you have particularly hairy shins, you might consider shaving to see if that helps you. Again, avoid oils or lotions when you shave – glycerine-based products are much more pole-friendly.

Third, make sure that you are pressing your knees together as hard as you can, only releasing to bring your legs up into consecutive climbs. The shins and ankles usually make reliable contact with the pole, but we often forget to actively press in with our knees. This will help increase the amount of tension your skin has with the pole.

Lastly, as we mention in the steps, flexing the foot is indeed a bad habit, but it can be incredibly helpful if you have not yet built up the strength for multiple climbs with a pointed toe. Think of this like training wheels for your pole climb – you want to get rid of it as soon as possible, but it teaches you form for the rest of the pole trick and allows you to practice and build up the skill beforehand. Once you feel stronger in your pole climbs, begin practicing with a pointed foot. Until then, use it as an additional safety in gripping the pole.

I'm Not Strong Enough to Move into Another Climb: When practicing the pole climb, there are two factors that go into "strong enough." It does indeed take upper body strength to hold yourself up on the pole, and it does take core and lower body strength to pull your legs up as you move into the second climb. It should not, however, take much strength to pull your body into the upright crucifix position.

When you are in your seated position on the pole and ready to move up, your hips should be low. Using your legs, hinge up with the hips only until you are in the upright crucifix position. This should not take any additional upper body strength.

If you are struggling to lift your legs into the next climb, you will benefit from core conditioning off the pole. Additionally, you can try mimicking the lifting motion of the legs from the floor. Brace yourself in the same anchor grip position with your arms and use the Push – Pull method to hold yourself on the pole from the floor. Then, from standing, use your core and lower body strength to lift your legs onto the pole in the correct X position described. Once your legs are on the pole, reverse the motion, and repeat. This will help condition your muscles for that specific movement.

Struggling with a Flexed Foot VS. Pointed Toes: If you used a flexed foot when learning how to do a basic pole climb, then you will eventually want to learn how to climb with a pointed toe. As mentioned before, using a flexed foot is much like using training wheels, so you will find that a pole climb with a pointed foot is much harder than with a flexed at first. This difficulty quickly dissipates with proper technique.

When you begin your climb, engage the ankle, point through the ball of the foot, then engage the toes, as if you were reaching out past your body with your toes. Tighten the rest of your leg muscles firmly and you'll feel your toe point become stronger. Try to keep this foot position as if there was a steel rod going through your leg – no more ankle bends! – for the rest of the motion.
Ready to explore new moves?